Workshops, Training & Presentations in Saskatoon
Frances Sreedhar had a busy week, presenting to Cosmopolitan Industries for their Staff Development Day and interviewing on CBC!
In addition, Crossroads Therapeutic Solutions is pleased to offer the following group for adults/teens aged 16/17
New single session!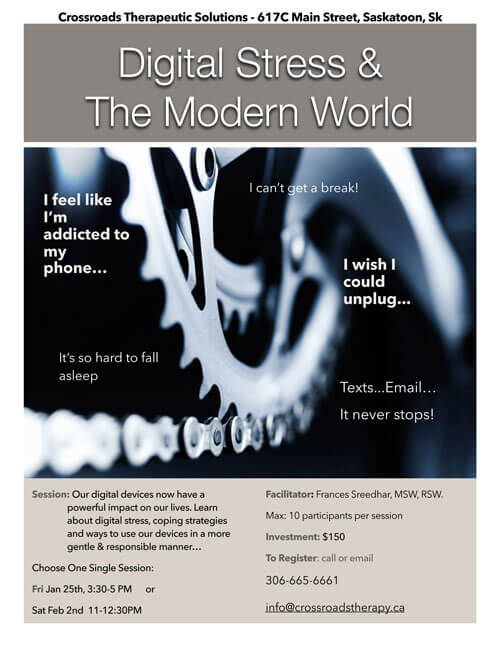 Remember: Some Employee & Family Assistance Plans will cover the cost of this group
(ie) City of Saskatoon, and some insurance providers will reimburse.
Feeling frazzled, fed up, sped up?
Take some time for yourself, learn about stress, modern life, and self-care strategies…
Meaningful changes, for life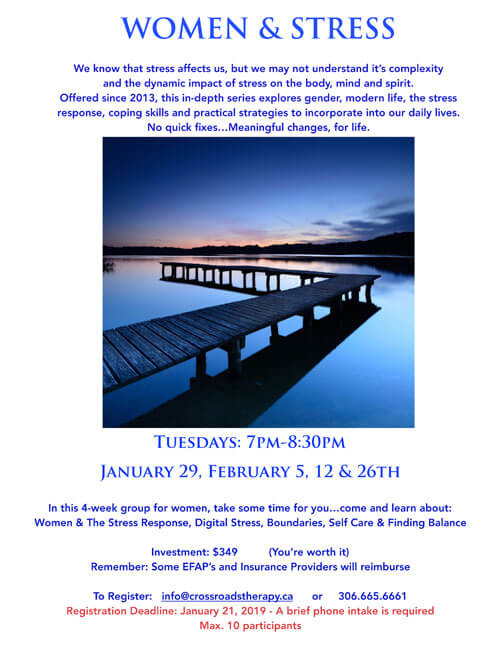 Crossroads Therapeutic Solutions offers workshops, training and presentations for individuals, groups and workplaces, ranging from one hour sessions, to tailor-made workshops. We can also tailor a workshop to meet your needs. Contact us for further information.
Training & Workshops for the Workplace
Anger: Identifying & Expressing Anger Appropriately
Dealing with Angry People
Aggression and Bullying
Sexual Harassment
Managing Interpersonal Conflict
Conflict Resolution
Communication
Increasing Personal Effectiveness
Managing Stress
Coping with Anxiety
Understanding Mental Health
Separation & Divorce
Parenting after Separation & Divorce
Positive Parenting, Stress & Relaxation
The Art of "Letting Go"
Self-Care
Sleep Difficulty
Boundaries
Grief & Loss
Body Image & Disordered Eating
Suicide Prevention
Stress & the Digital World
Group Programming:
Women and Stress Group: January 2018
Recovery from Relationship Trauma with a Toxic or Abusive Partner: TBA